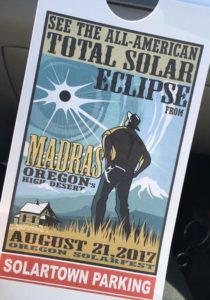 Bowing to the awesome spectacle that is a solar eclipse, this observer, together with his extended family and countless thousands of other umbraphiles, witnessed the awe-inspiring beauty that is this rare natural event. Despite the wildfires raging nearby, we were treated to near-perfect sky conditions in the high desert surrounding Madras, OR, a normally-modest town of just over 6,000 residents — which blossomed to possibly 30,000 or more in the days preceding the August 21 event.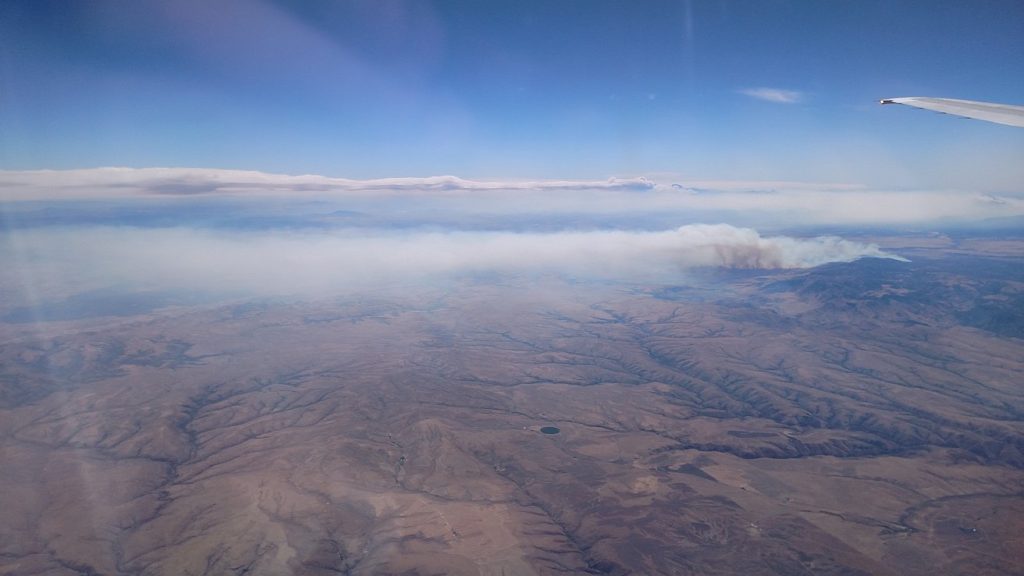 As the partial phases progressed, the crowd delighted in witnessing the transformation of the environment into an alien, bizarre landscape.  Shadows took on new, unfamiliar characteristics, with even one's own fingers creating pinhole images of the the crescent sun.
Close-up shots showed the moon's silhouette encroaching on a sunspot-adorned image of the sun's disc.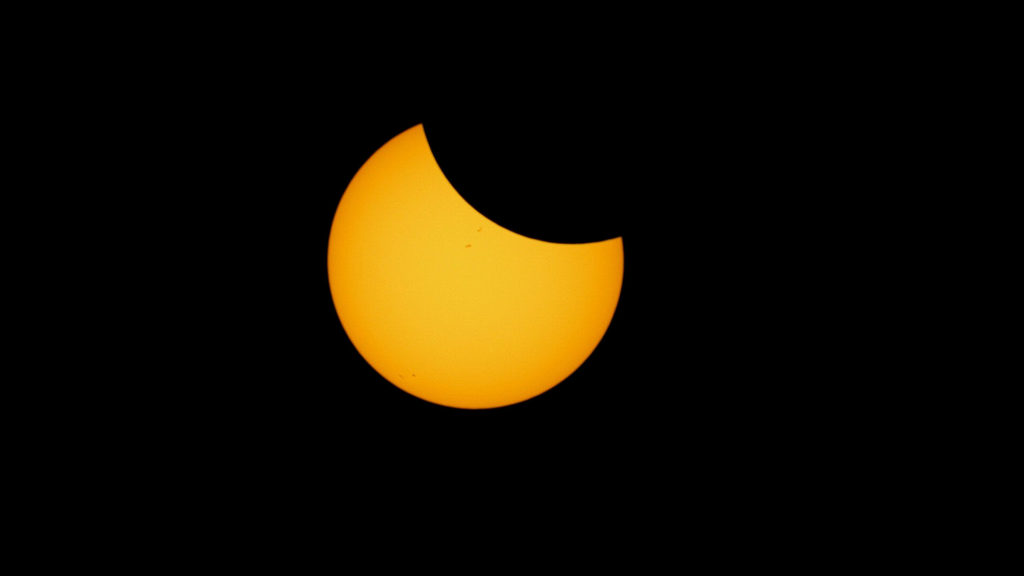 Then, finally, amid cheers from the crowd, the pièce de résistance.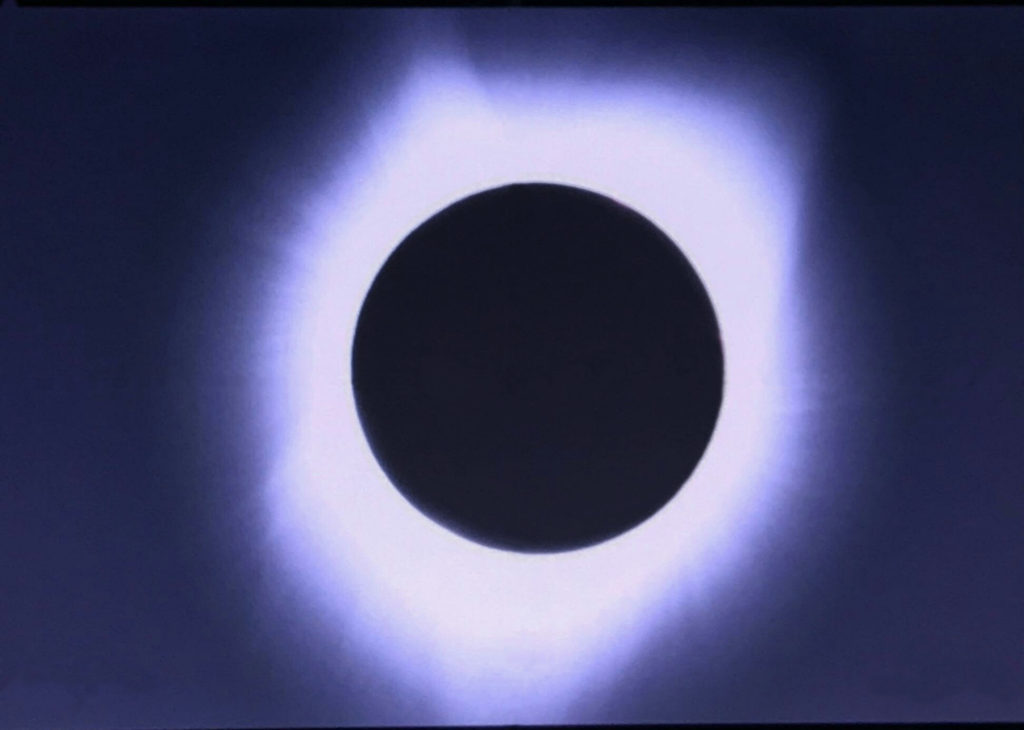 While photographic techniques have evolved vastly in the past few decades, nothing can truly portray the personal experience at such an event.  To anyone who has seen a total eclipse, it is obvious that the difference between "99%" and "100%" is orders of magnitude greater than the mathematical "1%."
Nonetheless, here is an attempt to capture the timeline of the event.  Allowing for artistic license, this picture combines different views of the eclipse, taken from the SolarFest "Solartown" campground.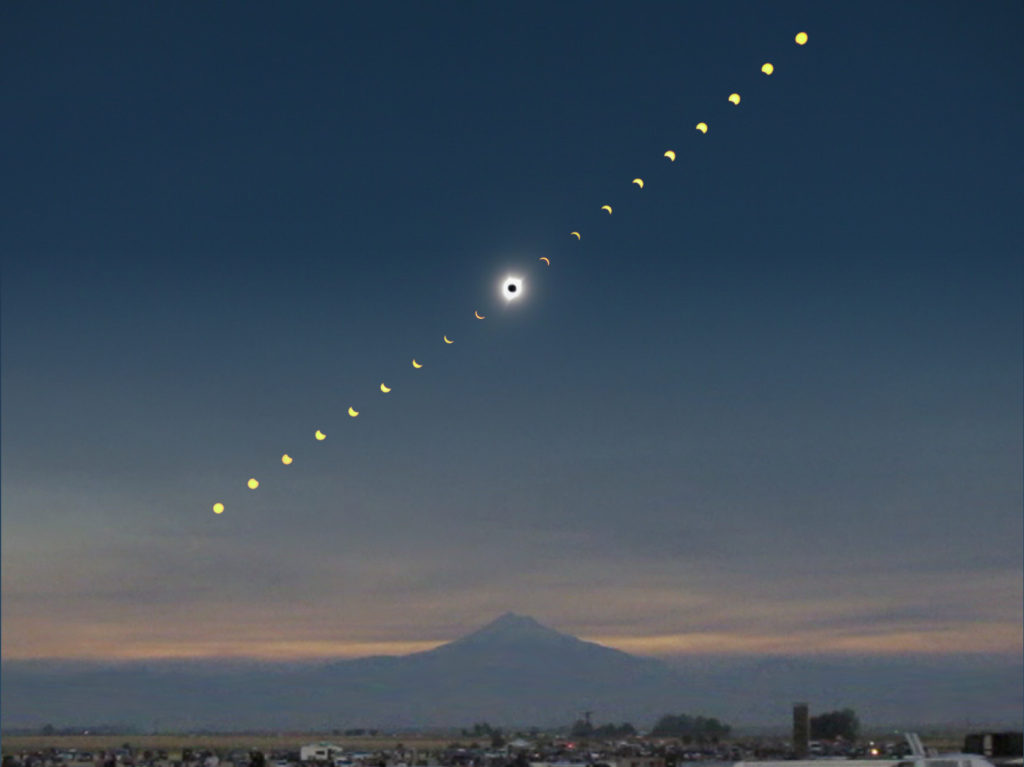 To some, the two minutes and five seconds of totality – replete with a 360° sunset-like horizon – lasted a lifetime; to others, it was over in a brief instant.  But even a novice could capture what could be a once-in-a-lifetime record of the event.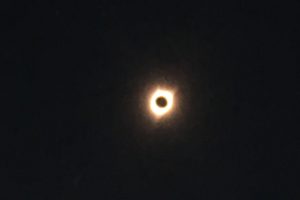 And then, it was all over.  (For a 15x time-lapse video of the shadow approaching and passing by, click here.) The die-hards remained in place until the last moments of exiting partial phase, while the novices departed seconds after totality ended.  Even the normally-quiet VFR-only S33 Madras municipal airport – which brought in a mobile control tower to handle the increased traffic – suddenly roared to life as opportune aristocrats jetted out from their brief two-hour stay.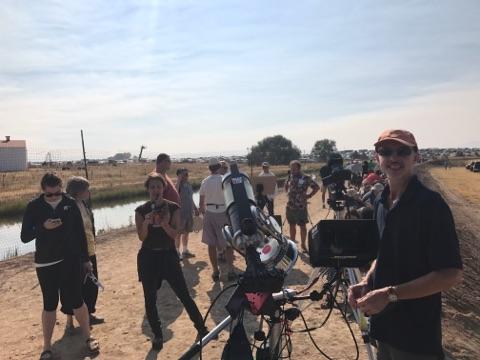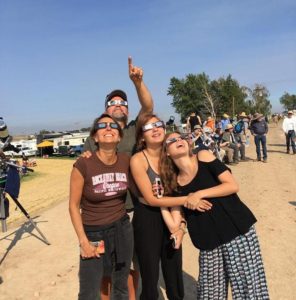 This was the second total eclipse that I have witnessed (the first in Cabo San Lucas, Mexico, 1991), and both times, I was struck by the humbling experience of an earth – and solar system, and universe – of which we are such a small, but influential part. Nature and physics plod on, despite our meddling interference; may we be wise (and generous) enough to be a constructive part of this grand scheme.
— Aldo Cugnini
Photo credits: Aldo Cugnini, Charlotte Cugnini, Elizabeth Cugnini, Sam Dehen.