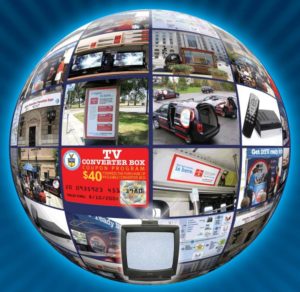 Washington, DC, and Long Valley, NJ – The Association for Maximum Service Television, Inc. (MSTV) selected AGC Systems to manage the MSTV Terrestrial Digital Converter Box Project.  In this role, AGC Systems managed the development, production, and evaluation of a complete Terrestrial Digital-to-Analog Converter Box that allowed the general public to receive terrestrial digital broadcast signals using existing analog receivers. The specification for this box, co-developed by the National Association of Broadcasters (NAB) and MSTV, required that it be easy to use by consumers, and that it readily convert the ATSC VSB digital transmission and MPEG coding signals to the legacy analog NTSC format.
AGC Systems was pleased to have been selected to manage this significant project, and to have a key role in the final part of the puzzle that allowed the digital transition to proceed. For broadcasters to switch off analog transmissions, then-current regulations required that digital-to-analog converter technology be generally available, and the converter box demonstrated that a high-quality low-cost consumer-friendly product is realizable.
MSTV President David Donovan said: "We were delighted to have someone with Aldo's background, knowledge, and experience to manage this important project." MSTV Senior Vice President Victor Tawil stated: " Mr. Cugnini is well known in the Digital Television industry. His leadership role in the development of the ATSC HDTV Systems, knowledge of the Consumer Electronics industry, and his strong technical and managerial skill were the right qualifications for this job."
---
For more than 50 years, the Association for Maximum Service Television, Inc. was the recognized industry leader in broadcasting technology and spectrum policy issues. Formed in 1956, MSTV ensured that the American public receive the highest quality, interference free, over-the-air local television signals. MSTV was a leading advocate for advanced over-the-air digital television in the United States, and is now integrated into the NAB. Information about NAB can be found at www.nab.org.
Using a key set of specifications developed by the MSTV Project, the NTIA TV Converter Box Coupon Program "was a tremendous success and is one of the reasons the digital television transition in the United States went so smoothly." — Lawrence E. Strickling, Assistant Secretary for Communications and Information, U.S. Department of Commerce.